Four years ago I wrote a post on Google search on the term, sustainability, noting that Wikipedia and the Environmental Protection Agency were top listings on the first page of results followed by research and consulting companies, mostly all business to business (B2B), not consumer (B2C) with the exception of Walmart. Then as now there were no sponsored links.
Do a search today and you can easily see the influence of Google's promotion of local search results, what Eli Pariser talked about as the filter bubble effect (TED, March, 2012).  At that time the Zuckerberg quote circulating,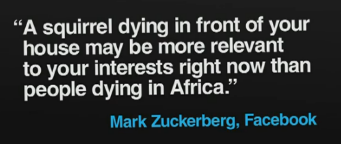 and not fact checked by me, was on target, ideally helping shoppers, but not necessarily those seeking information and knowledge.  The effect on national and international organizations, especially causes, is rarely discussed largely I think because many of our sustainability leaders are disconnected from the role search can play in educating our citizens and the shift to local is just a technical detail they might notice when searching for a new camera or local restaurant.
Doing a search from my current location of Petaluma, California the results include most of the B2B organizations on the top half of the page, as it was four years ago, but this time moving down to a local seed company, a Petaluma Health Center Conference on the Sustainable Enterprise, and a sustainable investment company.  Sustainability quickly gives way to sustainable, if only they meant the same thing.
At the same time, search traffic on the term, sustainability, has remained relatively constant this past year.
Traffic on global warming for same period has decreased by 18% while climate change has increased by 22%.  You can see the activity on this chart which also includes the terms sustainability, global warming, climate change, social justice and environmentalism.  You will note environmentalism, not to be confused with searches on environment, remains low (green line) followed by social justice reflecting the emphasis placed on environmental sustainability.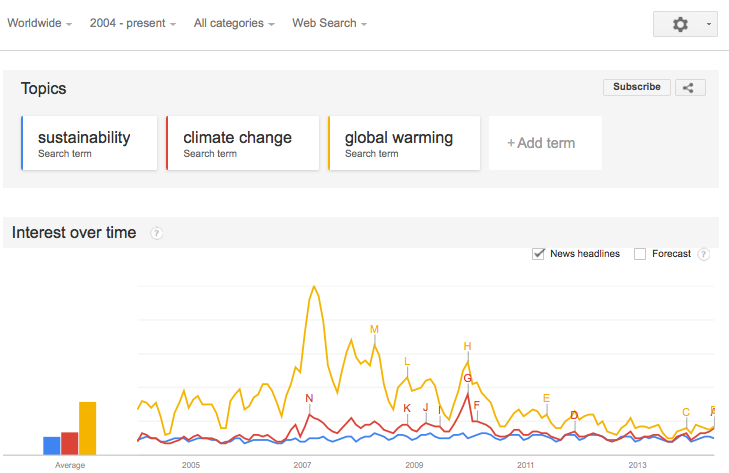 Google reports the average monthly searches on the terms with global warming highest at 450,000; climate change at 165,000; and sustainability at 135,000. Sometime last year Google changed the tool I was using that used to report monthly global searches for sustainability at 1.2M per month, similar to climate change.  Don't ask me to explain the differences in numbers just yet.

One reason for looking back this month is because seven years ago EarthSayers.tv was founded in San Francisco so it our birthday month.  Our goal is to help increase sustainability awareness by advancing the voices of sustainability.  We are a specialized search engine to all curated video content. We have not been as successful as we would like to be especially in achieving a presence in the top three page results for the term, sustainability, and the over 300 key phrases and terms we have include in our one-of-a-kind sustainability taxonomy.  The emphasis on local results has not worked in our favor, but we now have a collection of over 2,000 voices and have increased their page rankings and visibility across the Web.  We are holding firm on the idea that citizens searching on the term, sustainability, should have easy access to the unfiltered voices speaking on behalf of Mother Earth and her peoples, the next seven generations.
Ruth Ann Barrett, Sustainability Advocate, May 30, 2014, Petaluma, California