Yes, I believe in Santa.  And I never thought of him as a toy maker but a distributor.  One who s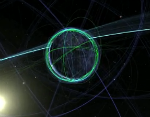 preads joy and goodwill, connecting us all.  So today I watched one of my favorite videos, The Known Universe, I added to the EarthSayers.tv collection this last year.  It was created and then published on YouTube by the American Museum of Natural History. It was part of the exhibit, Visions of the Cosmos: From the Milky Ocean to an Evolving Universe, held at the Rubin Museum of Art in Manhattan in 2010.
I thought about Santa when I first saw it, so see our Universe from his perspective.