Investing In Communities (IIC) is a young nonprofit empowering real estate professionals, like the founders and social entrepreneurs Michael Pink and Sharon Porter, to generate unrestricted revenue for non-profits through real estate transactions whether the client is an individual or company. Think of IIC as a client-directed, broker-funded social responsibility program.
It puts CSR into the real estate transaction to benefit communities.
IIC is an innovative program that corporations can launch as part of their CSR and sustainability initiatives for their real estate transactions as well as for those of their employees, enhancing the reputation of all and increasing the visibility of the broker, the employee, and the leaders of the company and the non-profit. Everybody wins.
Real estate brokers, as members of IIC, commit 10% of their commission from IIC-related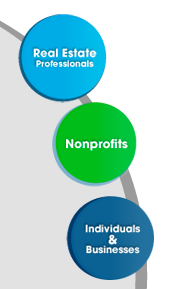 transactions to the non-profits of the clients' choice. The membership fee is nominal at $150.00 per year.  A recent Cone study reported "Anywhere from 87 percent to 96 percent of consumers in all countries expect companies to be doing something to support causes" ranging from economic development, environmental and human rights to health, education and poverty.
As part of increasing the visibility of these brokers, organizations, and their employees we here at EarthSayers are teaming up with IIC to feature online videos of their participants in an IIC special collection on our all video site, EarthSayers.tv, voices of sustainability.  Now over 1,000 voices strong EarthSayers.tv gives our citizens easy Web access to the largest collection of thought leaders on sustainability in the world.
As the curator of the IIC special collection, I have been scanning the Web for videos of thought leaders around these two phrases, investing in communities and impact investing. The first step in creating a special collection starts with definitions.

So to get us started, here is a short interview (video) with the author, J
ed Emerson in which he defines impact investing; gives good examples; and distinguishes it from socially responsible investing.  He is co-author of the book, Impact Investing. Click on the image to order from Amazon.com.
There will be more to come.

Investing In Communities® enables individuals and businesses to fund non-profits through brokered real estate transactions. Anyone can use IIC – individuals, business or organizations – for any commercial or residential real estate transaction using any broker they choose to give their assignment to.
CSR staff can leverage the real estate transactions of their company and employees to enhance corporate giving without touching the bottom line while significantly increasing brand awareness and reputation with the IIC program. It starts with creating an account here. It's that simple.


EarthSayers.tv is the only thought leadership platform that highlights business and civic leaders, experts, teachers, students, and citizens from all walks of life who are addressing one or more of the twenty-eight sustainability categories under the elements of planet, people, and prosperity. With nearly 1,000 videos we have created special collections around environmental, social, and economic challenges ranging from climate change to human rights to social entrepreneurship and investment.  We include interviews from events such as those produced by 3BL Media for the Ceres Conference 2011.

Sustainability Advocate is by Ruth Ann Barrett, Founder and CEO of EarthSayers.tv, voices of sustainability, Portland, Oregon, February 29, 2012.