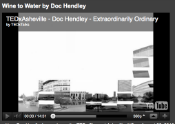 Video of Hero Doc Hendley's premier on the TEDx Stage at Asheville, NC on August 29, 2010. Doc is founder of Wine to Water, a non-profit promoting clean water resources in poverty stricken countries worldwide. This video compliments the interview of Doc Hendley by Dick Gordan of The Story as reported in this blog post.
He ends this presentation with "Here's to being a nobody." Find out why.
View video on EarthSayers.tv, special collection on One Water.
Sustainability Advocate, Ruth Ann Barrett, February 5, 2011, Portland, Oregon.