Introducing the Sustainability Information Diet (SID)


SID is all about increasing sustainability awareness on the Web which is awash in information resulting in search results running to thousands of possibilities and our eyes seeing but the first three or four listings. Here's a heat map of the results page, Google search. A listing of a YouTube video on page one of the results catches attention as shown in other heat maps.
Low Awareness What search does tell us is that sustainability awareness is low. And very low in the United States.  The U.S. ranks in the bottom of the top ten on sustainability search estimated at 1.2M per month globally. This is about the same number for those searching on corporate social responsibility and those wanting to know the price of an iPhone. This relates to the majority of search traffic that uses English, but does not exclude search traffic being highest on sustainability from countries such as Kenya, South Africa, Nigeria, Singapore and Hong Kong who along with Australia (#1), New Zealand, United Kingdom, U.S., and Canada make up the top ten regions.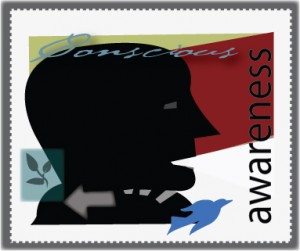 Low awareness adversely affects those selling green products as awareness is the first step in the consumer buying cycle. It makes educating, inspiring, and motivating our citizens to make changes at home and work less effective as well as it's also the first step in the learning cycle. Awareness is very important. Many talk about it in terms of consciousness such as Julia Butterfly Hill who talks about disconnected consciousness.
Tagging and Linking The more the term is used in the news, the more people use the term, the more people search, wanting to know more, the higher awareness. Equally important is connecting, through tagging and linking as sustainability, to other more popular search terms such as human rights (2.7M), climate change (2.2M), and global warming (2.7M). This is the stuff of search engine marketing a topic guaranteed to put most people to sleep yet key to increasing sustainability awareness. I've just touched on it here.
Yet the very thing that increases awareness (more stuff) contributes to the problem of information overload as first introduced in 1970 by Alvin Toffler in his book, Future Shock, and now best expressed in numbers. When you search on sustainability there are 31M results. Blinkx the video search engine produces 354,000 videos, up from 121,000 since we first did this query four years ago, video still a small percentage of the content out there, but growing in leaps and bounds.

A Diet for Excess The stuff we are buried in is a sea of text – reports, opinions, programs, organizations, initiatives, campaigns, projects, news, debates, speeches, panels, events, and PR releases. Not so when it comes to online video. This diet isn't about less, but more targeted, linked, tagged video to meet the information needs of those already searching and increase awareness.
Portion Control For our SID readers we will use portion control based on our collection of over nine hundred videos, aggregated then curated for relevancy and quality, to bring to your attention to how corporations, non-profits, educational institutions, and individuals are using video to help answer some basic questions, what is sustainability, a supply chain, sourcing, a for benefit organization, or concepts such as natural capitalism through speeches, panels, documentaries, art, animation, and interviews.
What's Next? February 16, 2012
The primary question to be addressed in Month One, February 16, 2012 of our diet plan of mostly video is What is sustainability?
Videos will feature Prof. Julian Agyeman, Tufts University (38:10); Christoph Lueneburger, Egon Zehnder (3:01); Larry Merculieff (Aleut 4:52); Prof.Stuart Hart, Cornell University (1:37); Allison interviews her father Bud McGrath, CORE (audio only 10:09); Dr. Karl-Henrik Robèrt, Natural Step (5:56); and animated personalities from People 4 Earth (2:50), RealEyes (2:02), and Dassault Systems (2:50).
Tune in.