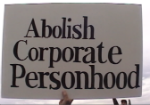 In my last post about Michael Porter's article, Strategy & Society, The Link Between Competitive Advantage and Corporate Social Responsibility, I noted his view of corporations as individuals, a giant organism and their supposed self-interest.  I suggested this view was dysfunctional – a hazard to achieving a successful and sustainable strategy.  Little did I know that the same day I would be practicing citizen journalism with user generated content (the two blog posts right before the one about Strategy & Society) by covering the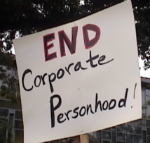 Occupy Portland gathering.  As you will see in my video of the event, Signs and Voices, the issue of corporations as individuals was on the minds of many in the crowd. It's a story stream that I am embedded in which actually began when I taped a Thom Hartman speech at the June 2010 Seattle Green Festival on this very subject. It's posted to EarthSayers.tv, voices of sustainability.
This has been my journey in thinking about corporations as individuals and it has led me to one conclusion. Yours may be different, but I hope you tune into my story stream and give a listen.
Ruth Ann Barrett