Each year since 2005 Corporate Knights, the magazine for clean capitalism, announces the Global 100 which are "the global corporations which have been most proactive in managing environmental, social and governance (ESG) issues.  The team that crunches the numbers is composed of Inflection Point Capital Management—a sustainability-focused asset management venture founded by Dr. Matthew Kiernan, Legg Mason's Global Currents Investment Management, and Phoenix Global Advisors LLC (a consulting and technology platform focused on sustainability).
Eleven UK companies, two Brazilian, six Australian, five French, three German, nineteen Japanese, and these thirteen U.S. companies: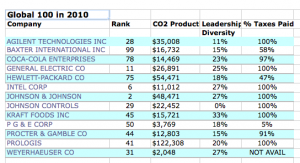 VIRTUOUS CYCLE
The motivation for doing this list, which follows an interesting methodology, is to mainstream "sustainability in the business community by applying objective corporate social and environmental measures that clearly show which companies stand above their peers, our aim is to create a virtuous cycle where the most sustainable companies attract the most capital and earn the best returns. The Global 100 companies deserve to be recognized, because they are models for the art of the possible, living proof of how billion dollar entities can squeeze more wealth from less material resources while honouring the social contract."
It's hard to argue against this intention so I think the best thing to do is circulate the list as far and wide as possible and hear what people from the social, environmental, cultural and economic perspectives of sustainability have to say about the companies on this list.
The key performance indicators (KPI's) are very interesting and deserve some attention: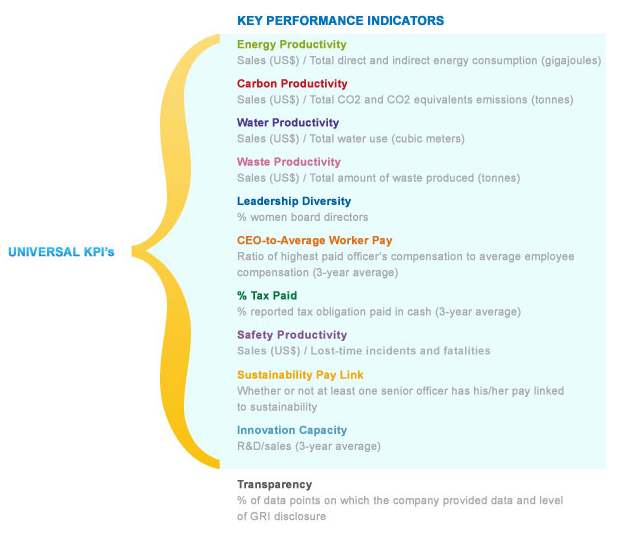 Noted by the authors was two fundamental limitations of corporate sustainability research:
1. A lack of ESG data persists despite the growing importance of sustainability to the corporate world.
2. No single sustainability research provider is currently able to provide a total picture of global corporate sustainability due to coverage gaps and methodological biases.
All in all it is a very interesting process and the conclusions need to be subject to scrutiny, but the intention is there to take sustainability awareness and adoption mainstream and what makes this an objective, rather than a mission or goal, are measurements and feedback loops.
NOTE MORE REPORTS
Weekly reports will be issued over the month of February in three installments (Environment, Social and Governance) covering each of the 10 specific key performance indicators plus the transparency metric. On February 28, the full suite of indicators will be made available for download in xls format from www.global100.org