Finding before Engaging
The hot topic these day among our business and civic leaders is not search and how it influences what we are finding to learn or buy.  It's civic and customer engagement. Unless you're a big corporation with deep pockets how can you engage when you can't be found?  Yes, social media plays a minor role so far in search and a bigger one in terms of engagement, but searching on keywords is the first step in a buying or learning process.
Many decision-makers still consider the Web too "technical" for them to understand and manage. Search, if it is managed at all, is left to individuals with the least amount of exposure to the organization's clients/customers/students/citizens and little if any access to the organization's strategic plans and tactical program planning. This is not the situation in large, consumer brand companies.
Here is an example of the influence of search on a topic I think demonstrates how influential search results are to spinning, not crafting a story.  I hope it sparks leaders to begin questioning how search  works and how it may not be working for their organization or their stakeholders.
Oil Spill: BP#1, Our Health #3, and Wildlife #4
What is a third grade student searching YouTube on the term oil spill seeing these days and what are they likely to click on? Why should we be concerned how search results architect knowledge and information, influencing how our citizens perceive local, regional, national and world events?
Youtube is the second most popular search engine.

Let's follow up on the Gulf Coast oil spill and see what impression you are left with.
BP is in the prime spot on what is called a SERP – search engine results page – followed by the second promoted video a YouTube Channel, Vision Victory, which seems to be a real estate and financial video blogger named Daniel of crushthestreet.com.  Organic (unpaid) search begins with a news report on health concerns of the spill by AlJazeera English with National Geographic in fourth place with a video about penguins and the oil spill. Check out the view numbers.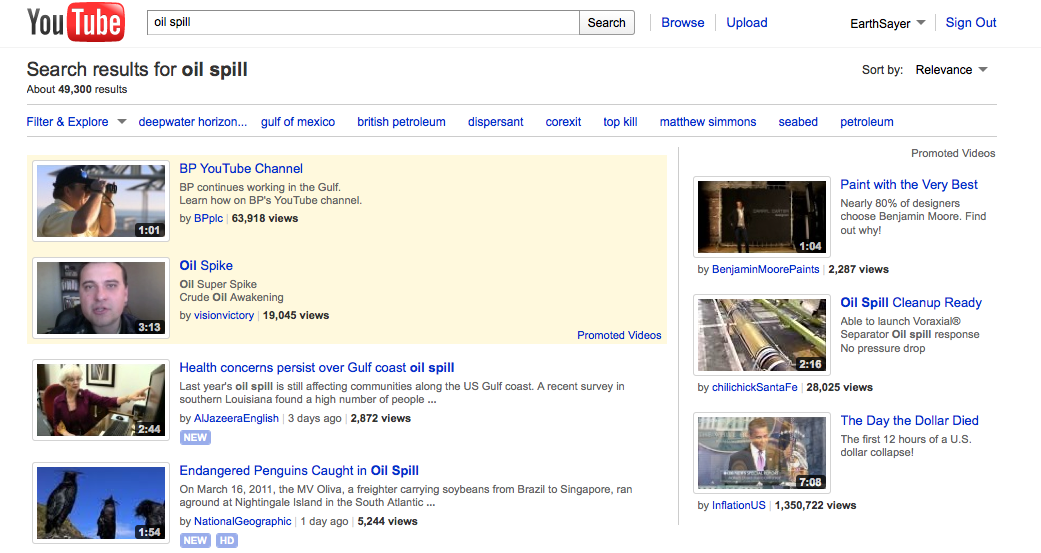 The BP click through is to their YouTube channel and the first video features "Ike Williams, owner of Ike's Beach Service in Gulf Shores, Alabama, who's been in business on the beach for 27 years. His staff is getting ready for what is expected to be a busy tourism season this year along the Gulf coast, now that the area is returning to normal."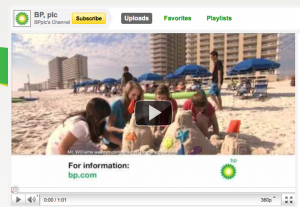 How many people out there think the Gulf Coast is returning to normal? If enough people believe it, does that make it true? How reliable of a source is BP?
How can you engage the third grader and the other 3.3M searchers (monthly U.S. out of 4M worldwide) when you can't be found or seen and when searches on keywords ranging from cameras to oil spill to sustainability are increasingly being dominated by large corporations who buy their way to the top?
Time to start paying attention to what's happening with Google and YouTube search and learn what's under the hood.