Climate Change Risk expert Mark Trexler and his partner, environmental lawyer Laura Kosloff, launched The Climate Web in a large part because of the problem of "Infinite Information."  This problem, Mark says, is analogous to the adage "water water everywhere but not a drop to drink." Given the rapidly changing nature of conversations around both climate science and climate policy, it's a critical problem for business. As corporate decision-makers are deluged by information, it becomes harder to discern what data, news, opinions, and analyses really matter to making wiser, more prudent decisions.
It's the same problem that drove us to found EarthSayers.tv, a specialized search engine to all curated, relevant voices of sustainability. It is very difficult to learn from and be inspired by our leaders when you can't find them. There are now over one hundred and fifty YouTube channels relevant to sustainability, including those channels of our Indigenous Peoples, our wisdomkeepers with video content that is valuable but not necessarily findable. 
There are a legion of search engine optimization (SEO) experts in the highly commercialized web. So, Mark, Laura, and myself are not the only ones addressing the infinite information problem. But we have distinguished ourselves by providing access to "actionable knowledge" on climate change and calling out the unfiltered voices of the sustainability leadership using technology coupled with curation in our two unique websites, The Climate Web  and EarthSayers.tv . We invite you to visit and use them in your research, due diligence, and educational activities and programs.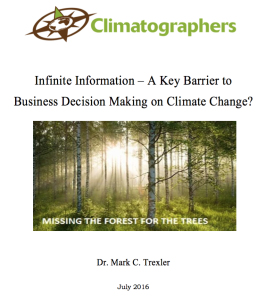 Mark and Laura have some helpful resources for users to learn how to effectively use The Climate Web.  For one thing, see this video, An Introduction to The Climate Web with Mark Trexler on the EarthSayers' channel, Climate Change Risk. Secondly, I recommend you take a look at their recently published white paper, Infinite Information – A Key Barrier to Business Decision Making on Climate Change? — your complimentary copy is available for download here.  
As publishers and curators Mark and Laura can help you use the Climate Web to your best advantage in developing executive briefings, supporting decision-making workshops, conducting topical trainings, engaging in climate risk scenario planning, and much more to include customized spotlights and decision dashboards.
Ruth Ann Barrett, Sustainability Advocate, July 22, 2016, Portland, Oregon