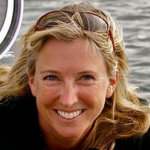 I met British ocean rower and environmental campaigner Roz Savage at a San Francisco fundraising dinner over five years ago.  It was fairly early on in her campaign "to bring us all together, by rowing by herself across our oceans for our planet and to demonstrate how we can change things, one stroke at a time." I was very inspired by the lifestyle choices she had made and her commitment to a life purpose not to mention the courage it takes to row single handed across oceans.   And she rowed across three – Atlantic, Pacific and Indian! Last September when the opportunity came up to interview Roz I leaped and with cameraman, David Okimoto, interviewed her at the Aquarium of the Bay.  Now I can share her story with you.
Roz Savage talks about plastic pollution, often called a "man-made global catastrophe," in the context of her first-hand experience as she rowed, solo, from San Francisco to Hawaii on the first stage of her Pacific Ocean crossing.
Meeting up with the two scientists on the Junk craft, they shared dinner and their research with Roz several hundred miles east of Hawaii. She gives us the bottom line – use less of it – and calls on each one of us to significantly reduce our use of plastic and make a positive difference in the world.
Visit our newly created EarthSayers.tv special collection on Plastics in Our Oceans and view Roz's interview here.  This is a very inspiring and motivating story from a woman I greatly admire.
Roz was in San Francisco with her friend and colleague Howard Lack, CEO of the UK-based Foundation, Plastic Oceans so I was able to interview him as well. You will find him in the same special collection here.

Ruth Ann Barrett, sustainability advocate, January 31, 2014, Portland, Oregon