All types of organizations are producing animation, slide shows, documentary style videos, feature films, commercials, and the expert-interview to communicate their perspectives on food – big challenges of agricultural reform and rising food prices; food supply and demand; sourcing; and food safety.
The following curated selection reflects the complexity of the sustainability category of food production and farming and points out the opportunity for us to make more capable decisions about the food we buy and eat as well as move us beyond the more common conversations around organic products and nutrition, especially dieting.  Hopefully at least several of the eight will be conversation starters for you around the dinner table, at work, and in community meetings.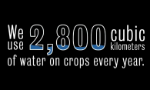 1. Big Picture, Agricultural Reform, University of Minnesota's Institute on the Environment, How to Feed People without Destroying our Environment? 3:02 – 35,396 views on YouTube. 2. Paradigm Shift, Agriculture, Sophia joanes, Fresh (trailer), 2:54 – 144,000 views on YouTube.
3. Big Issue, Food Prices & Poverty, The World Bank, Rising Food Prices and Hunger, 2:50 – 206,843 views on YouTube.

4. Supply & Demand, Local Farming, Chipotle Mexican Grill, Back to the Start, 2:20 – 6,043,001 views on YouTube. 5. Factory Farming, Sustainable Table , Meatrix and the Lie We tell Ourselves, 3:46 – 135,687 views on YouTube.
6. Sourcing, McDonald's lettuce supplier, Top Quality from Field to Fork, 1:54 – 213,730 views on YouTube.

7. IBM commercial, Tracking Food through the Supply Chain, 0:31 – 18,073 views on YouTube.
8. Food Safety, Richard Linton, Ohio State University, Food Safety, 2:05 – 170 views on YouTube.
Ruth Ann Barrett, Sustainability Advocate, March 28, 2012, San Francisco, California 415-377-1835